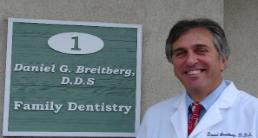 1190-B King George Blvd.
Savannah, GA 31419
912-921-0401
WELCOME
Roher & Breitberg Dentistry specializes in beautifying smiles, maintaining your dental health, and helping you improve your appearance. Our experienced and friendly staff takes great pride in keeping your smile beautiful. Our promise to you is that the fillings, crowns, and bridges we create will look as good as or better than the teeth nature gave you. And to make sure we keep that promise, the products we recommend and use are the highest quality and incredibly durable. You can trust your smile with us.
GOALS:
We place great emphasis on a strong doctor-patient relationship. Our patients are like friends and family, and our office is open for discussion about any dental problems our clients may have. Be assured that our greatest satisfaction is to see your healthy smile!
OUR SERVICES:
Our office supplies a wide range of oral care with high quality dentistry. We provide anything from simple fillings to complicated rehabilitation, including implants, crowns, bridges, root canals and dentures. We also offer Nitrous Oxide (laughing gas) analgesia. We are skilled in modern cosmetic dentistry, as well as reshaping, modifying, and reconstruction to reflect the best appearance in our patients.
Our hygienists are trained to provide you with the best oral care available. Our friendly office staff is always willing to arrange appointments, which will be mutually convenient. We have a specialist who handles insurance claims and any documentation you may need.
---